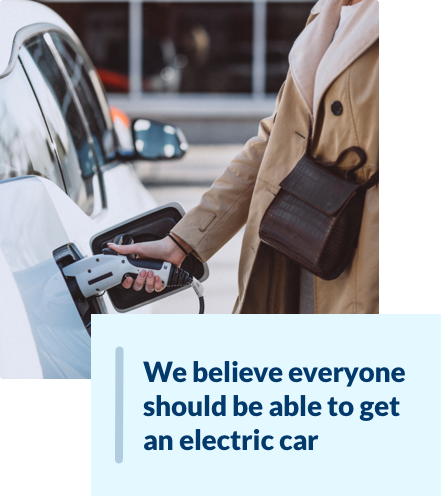 It will happen, one day everyone will drive electric cars – and we're starting the electric car finance revolution right now at Hippo Motor Finance.
Buying an electric car can be a daunting, confusing task if you've never bought one before (and not many people have), so we're here to make it easier.
The Hippo commitment
We believe everyone should be able to get an electric car without complications. That's why Hippo Motor Finance takes a fresh approach to electric car finance. Our service allows you to:
Finance an electric car when you may not feel like those deals are accessible to you.

Invest in the future of driving by financing a car that improves your lifestyle and protects the planet.

Unlock benefits like free parking, reduced road tax and insurance and free charging points throughout the UK.
How to get electric car finance
Step 1

Check if you'll be accepted - with no impact on your credit score!*

Simply fill in our quick and easy form and we'll let you know within minutes if you'll be accepted.

Step 2

Use the My Hippo app to find your car

Once you've been accepted for finance, your dedicated account manager will give you exclusive access to our portal, where you can browse 1000's of vehicles and reserve your dream car

Step 3

Drive away in your dream car!

Collect your car within 48 hours from one of our showrooms or arrange nationwide delivery to your door!
Rates from 12.9% APR. Representative APR 18.9%. We are a credit broker, not a lender.
*a hard search will be performed if you decide to proceed
Why should I get an electric car on finance?
1. Planning for your future
We will all have to drive electric cars one day, and getting started now is making a real investment in your future and the future of the planet. Be a green trendsetter and start the movement now.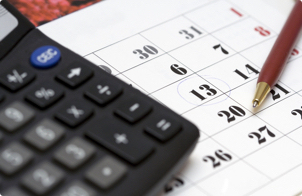 2. Simple monthly payments
When you go electric, you're going to have lots of questions about the car, so the last thing you need is a complex finance arrangement. We keep it simple, giving you a car and finance arrangement in one easy payment.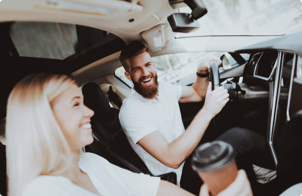 3. Reduce running costs
Tax, insurance, servicing and fuel; running a diesel or petrol car can be costly. While you'll still pay for these with an EV, the overall running and maintenance costs are generally cheaper, so you'll have fewer money worries.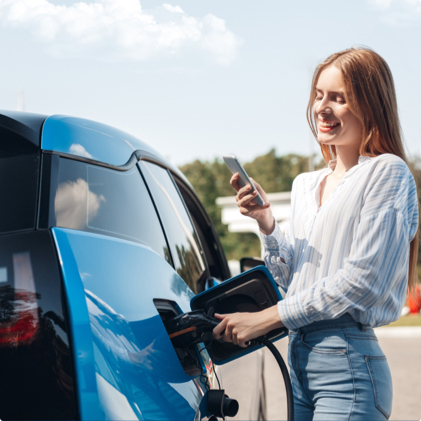 How can Hippo help me get an electric car and finance deal?
We know that the process could be new to you, so we ensure we go through all the details and answer any questions you may have before we put any agreement in place. Our philosophy is to get you the car and deal that you want.
Once you're happy with the process, we can help you choose a car. EV specifications are different from standard petrol or diesel cars, but we can run through them with you. Plus, as popularity is soaring, there are more options on the market, such as more model choices and more used EVs.
We understand that everyone's circumstances are different, so we offer tailored finance packages to customers from different backgrounds. Plus, we offer cars and finance agreements to people with no deposit, bad credit and even CCjs and IVAs.
Check Your Credit Score
Your finance options
As a responsible broker, we always recommend picking the finance package that's right for you. You can do a FREE soft credit check with us that won't affect your credit score, but you can get an idea of which finance package you'd prefer beforehand:
Hire purchase (HP)
Arrange your contract period and monthly payments with us, stick to your payment plan and
own the car at the end of the agreement
.
Personal contract purchase (PCP)
Pay smaller monthly payments during your contract, and
pay a balloon payment
at the end of the agreement to own the car or hand it back.
Our best electric car finance deals
We have a vast range of EVs from various manufacturers. We can help whether you're looking for the trendsetting Nissan Leaf or the new Mercedes-Benz EQC. Start browsing now:
We inspect and test our vehicles
Regardless of whether your car is petrol or electric, we prepare each vehicle in our state-of-the-art service and repair centre. Our rigorous checks ensure your vehicle is in peak condition, so you'll feel assured as soon as you get behind the wheel.
We deliver 
Once you've found your perfect car, you can collect it, or we can deliver it to any destination in the UK. All our electric car finance deals come with no hidden costs. What you see is what you pay – feel proud that you are looking after the planet.

"I want to say thanks to the entire team. They are very friendly and informative. All of my questions were answered promptly. Thank you."
Heidi Alba | 21/09/2020
Learn More About Car Finance
Read our guides on car finance to discover how you should finance your new car: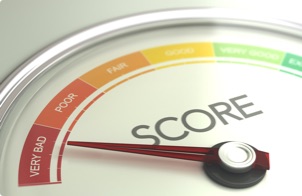 Bad Credit History
If you've been suffering with a bad credit history, you're in good hands. As bad credit car finance specialists, we understand you still need a reliable vehicle.
> Bad Credit Car Finance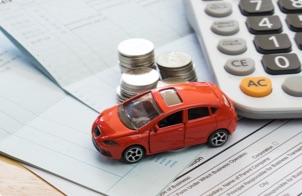 Car Finance Explained
Car finance can be confusing, but luckily we're on hand to keep things simple. Our expert guide will help explain the finance process.
> Car Finance Explained