A car service is one of the most vital checks you can do to maintain your vehicle. By regularly servicing the vehicle to the manufacturer specification it not only helps give your vehicle longevity but keeps you safe on the road.
Garages will offer a variety of car services – whether that's an interim service, full service, or major service if it has been longer than two years since the last one. This can often be rolled into an annual MOT too.
Read on to find out about what is car servicing and related questions…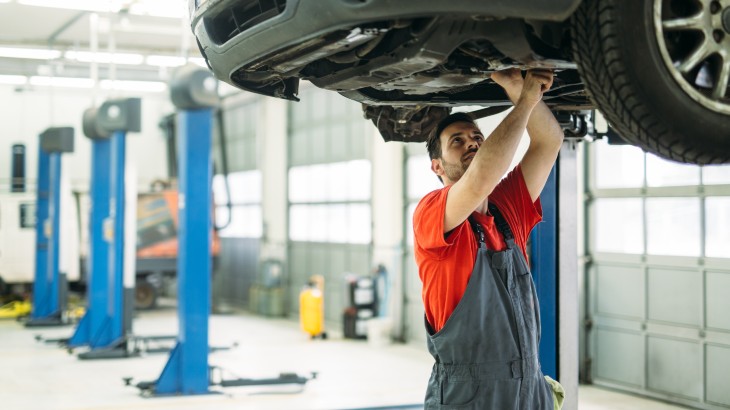 What is a car service?
A car service is basically like me or you going for a health check up: it lets an expert check everything is in good working order.
When a mechanic is servicing your car, they will check the car for any signs of wear and tear to tyres, lights and more as well as checking and potentially replacing fluids including engine oil and coolant.
Following the check, they will advise you on anything you might want to consider fixing immediately as well as things to keep an eye on.
Unlike an MOT, a car service isn't a legal requirement but it does mitigate any nasty surprises.
Why do I need a car service?
A car service is important for a variety of reasons across the whole lifespan of a vehicle: first, if you're driving a new car, a service helps maintain the warranty of the vehicle. If leasing a car it's often part of the contract that you're required to get it serviced as per the manufacturer recommendation.
Second, if driving an older vehicle out of warranty, it ensures your car is working to its optimum and you're aware of any potential issues that could arise (usually highlighted as amber items on your MOT and/or service)
Third, when it comes time to sell your car, having a full service history gives buyers confidence that the car has been well looked after and allows you to charge more than if you had no service history.
Is a car service the same as an MOT?
No, an MOT is required by law once a car passes its third year on the road. Failure to do so voids the insurance and driving without insurance is illegal. There's no legal requirement to have your car serviced, it is aimed at ensuring your car is running at its best.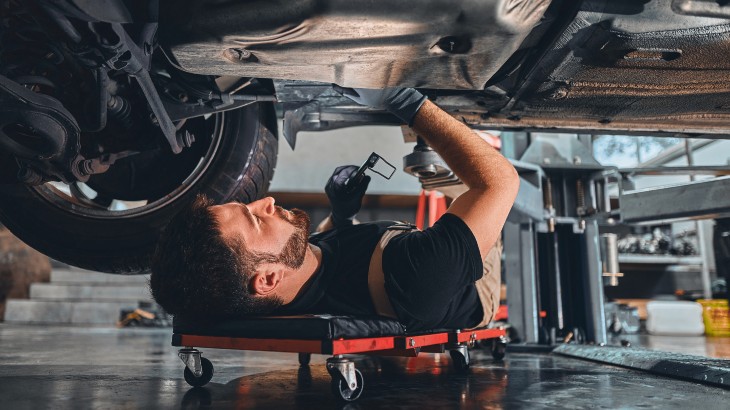 What is included in a car service?
Car services will vary from garage to garage, with most motorists choosing to have their car serviced at a manufacturer dealership or approved garage. This ensures a make and model expert is working on the car and any recalls or updates can be applied to the vehicle at the same time.
While there's no set criteria to a car service, it will generally cover a number of visual and manual checks to the exterior and interior car including brakes, steering, lights, and the exhaust. The mechanic will also ensure everything under the bonnet is checked and all fluids are drained and replaced or topped up.
Which type of service should I choose?
A garage will be able to offer you a variety of services depending on your needs. These include:
Interim service which acts as a quick check up and helps spot any potentially serious issues that might arise such as worn brakes, loose steering or bald tyres.
A full service is the type of service which is performed annually and is more comprehensive than the interim one. It will involve the checks outlined above as well as replacing of fluids.
A major service is usually reserved for a vehicle which hasn't had a service for two+ years, or if it only has a part service history if you've bought used. This service includes all of the above as well replacing of brake fluid, spark plugs, alternators and maybe even the battery.
Whichever you choose will depend on your circumstances and when your car was last serviced. You can find this information by looking in your vehicle log book.
How much does a car service cost?
As there's no set criteria to a car service, the cost can vary depending on what is being checked. Whichever garage you take your car to will be able to inform you what is being looked at as part of your service to justify their costings. Main dealer and manufacturer approved garages tend to be the more expensive option due to using specific parts, whereas chain garages such as Halfords or KwikFit will offer a set price. Going to an independent garage will vary depending on who you choose.
More often than not, you will find a service to cost between £100-200 depending on the level you require. Most garages may offer a discount if you get the car MOT'd at the same time.
How often do I need a car service?
Every make and model of car is different, and so requires servicing at different times. As part of Kia's seven-year warranty they require motorists to service their car annually, whereas with Skoda a brand new car's first service will be at 24 months or 20,000 miles.
Your car manual will outline the manufacturer recommendations for the frequency of servicing, or if it is a brand new car then it will more than likely alert you when it needs a service.
Can I service my own car?
There's nothing to say you can't service your car by yourself, however it's worth thinking about a few important points first.
If your car is under warranty then servicing the car yourself rather than as instructed by the dealer is likely to void your warranty. Even if it's out of warranty, you're likely to impact the value of your vehicle at resale if you decide to start servicing the car yourself instead of taking it to a garage as it will ensure the log book is missing a stamp and can only be marketed as having a part-service history.
Finally, you need to ensure you not only know what you're doing under the bonnet but have all the correct tools to hand as well as somewhere suitable to get under the chassis.
Did you find this information useful? Read more helpful advice here…