For many, a van isn't just nice to have. It's a necessity. In fact, for certain businesses, a van is the most important investment you can make.
But what's the true cost of owning a van? Well, read on as we take a look at everything involved in buying and running this must-have vehicle to help you decide how you can minimise costs while getting everything you need.
Purchase or lease costs
If you're looking to buy a van outright, this can be a major expense. How much money you'll need upfront will depend on the age, make and model of the van.
If you have the capital to purchase the vehicle outright, though, it means you don't have to factor monthly repayments into your budget as you do with a finance arrangement.
Purchasing your van through finance is another way. You might still generally need additional capital at the start to put down as a deposit, although that's not always the case.
Then it's a matter of factoring in monthly repayments – the amount of which will depend on the cost of the van, how much deposit you've put down, how long the term lasts, the interest rate you've accepted and the type of finance agreement you enter.
If you decide to lease a van, however, your initial costs are typically lower. Like other types of finance, you may still need a deposit amount, but your monthly payments will be lower in comparison to most other finance agreements, such as hire purchase.
Fuel costs
Fuel can be one of the biggest running costs that come with a van. Vans usually have larger engines than standard cars. They're also heavier, so you'll need more fuel to fill the tank. And more fuel means a bigger cost to you.
Of course, how much fuel will cost you will also depend on several things – such as the size and age of your van.
To get an idea of how economical your van will be, start by checking the miles per gallon (MPG) information. Van manufacturers have to publish official MPG figures about their models and tell you more about how affordable the van is to run.
Think about your typical journey duration, too. How far will you be travelling and how often?
Generally, with a little bit of advanced planning, you can ensure your journeys are more efficient and this will, in turn, improve fuel economy.
Diesel, petrol or electric?
With the majority of vans in the UK being diesel-fuelled and fuel costs increasing in recent years, most van drivers pay more now to run their van than ever before.
However, diesel still typically gives you more miles per gallon than petrol, so for van drivers doing longer journeys, it remains a popular and cost-effective choice.
While diesel still dominates the market, petrol vans have come a long way in the last few years. Previously only considered for shorter journeys, now many match the torque and indeed payload ratings of their diesel counterparts, so it's definitely a viable option.
If you really want to cut back on costs, however, you could opt for an electric van. This is ideal if you make frequent local journeys rather than longer trips that would require you to charge up more often.
If you regularly travel in cities, they're also exempt from charges such as the London Congestion Charge, and you can take them through Low Emissions Zones, too.
On top of that, with the Government offering grants of £3,000 – £6,000 on electric vans, it's become a more affordable and attractive option than even low-cost diesels.
If fuel costs are a concern, one way to help you manage is with a fuel card. While they won't cut your costs, they're a simple way to manage these expenses without having to keep every receipt for your records.
Van insurance
Insurance is an area where it really pays to shop around. Van insurance differs slightly to car insurance in the way that vans are typically used for business purposes (although you can insure your van for personal use).
If you lease a van, you must hold fully comprehensive cover and be either the main policy holder or a named driver on the insurance.
Where van insurance completely differs is the extras you may need to add on. For instance, couriers will need a policy for Carriage of Goods for Hire and Reward. This covers van use when transporting people or goods that are not your own.
Business and commercial insurance are designed to cover the contents and use of your van, while you may want to think of additional legal costs on your policy – particularly if you do high mileage which can put you at greater exposure to possible accidents.
To get the cheapest insurance, while ensuring you're covered correctly, think about exactly what you need the insurance to cover before you shop around.
Consider the security of your vehicle, too – physical locks can bring down your insurance outgoings, as well as keep your van and its contents safe.
Tax on vans
Vehicle Excise Duty (VED) is the yearly DVLA tax you have to pay to keep your vehicle on the road (often referred to as road tax). When it comes to vans, it's worked out by when the van was first registered and is much simpler to navigate than car VED.
The 2020/2021 VED rates for vans under 3,500kg are:
| | | |
| --- | --- | --- |
| Type | Registration | Cost |
| Light goods vehicles | After 1 March 2001 | £265 |
| Euro4 vans | Between 1 March 2003 and 31 December 2006 | £140 |
| Euro5 vans | Between 1 January 2009 and 31 December 2010 | £140 |
| Vans under 1,549cc | Before 2001 | £165 |
| Vans over 1,549cc | Before 2001 | £270 |
| Electric vans | | £0 |
Benefit-in-kind (BIK) rate for vans
Benefit-in-kind is what employees pay for a 'perk' from their company. In the case of a van, that's using it for private journeys as well as business. It's a flat rate – for 2020/21 it's £3,490 and you pay either 20% or 40% depending on your income tax bracket.
This is only applicable if you use a company van for private use, rather than using your own van for business use.
Van Fuel Benefit Charge
Again, if you use your van for private journeys, but your company pays for the fuel, you'll be charged a Van Fuel Benefit Charge. It's a set rate of £669 for the current 2020/21 tax year and you pay 20% or 40% of that according to your tax band. Obviously, this is not applicable to electric vans.
Leasing and tax
If you lease a van, there are a number of tax benefits available to you. Depending on how you are using the van – for business or outside of work – you may be able to claim back 100% of the VAT costs.
This is also applicable to VAT related to maintenance packages or even excess mileage charges.
Service and maintenance
Maintaining a van can be costly. As it's a hard-working vehicle, it needs to be as reliable as possible, so you'll need to factor in time and money to keep it running smoothly.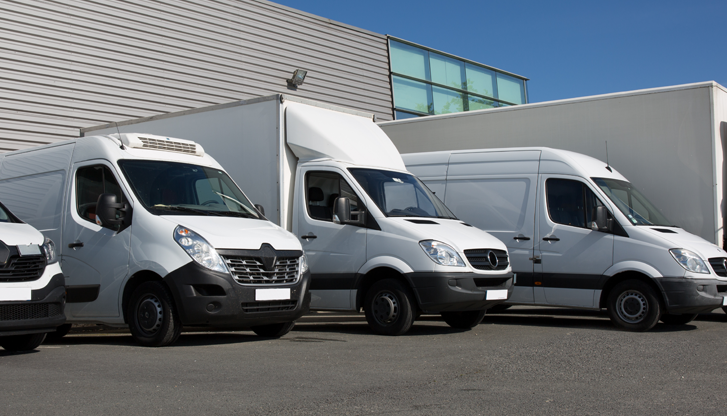 While the cost for a van MOT doesn't differ from a car, maintenance usually does. The more you use your van and the older it gets, the more you'll usually pay for maintenance, too.
The advantage of a lease van is that it'll be newer, so less problematic. It comes with a manufacturer's warranty as standard, plus you can take out a maintenance package, the cost of which will be absorbed into your monthly payment, making it much simpler to budget for the unexpected.
Is it cheaper to buy or lease a van?
There are several benefits to buying or leasing a van and ultimately whether it's cheaper will come down to your own personal circumstances.
Van leasing is a good option if you want to finance a van without a big initial outlay and would prefer to cover the costs monthly. It can help with budgeting for maintenance costs and there are some tax benefits.
However, it's not always right for every van driver, so it pays to explore your options before committing to buying or leasing a van.