Van finance has become more popular over the years thanks to affordable deals and flexible terms. But if you need to sell your van and you still have outstanding finance on it, is there anything you can do?
In a nutshell, until you've finished off paying the finance, the van doesn't legally belong to you. It's still the property of the finance company and not yours to sell.
However, there are ways you can settle your finance earlier, leaving you free to sell your van.
How you do that depends on the finance agreement you have in place. So, let's take a look at the main ways.
Can I sell a van with outstanding Hire Purchase (HP)?
With a hire purchase agreement, the finance company or lender is the legal owner of the van until the final repayment has been made.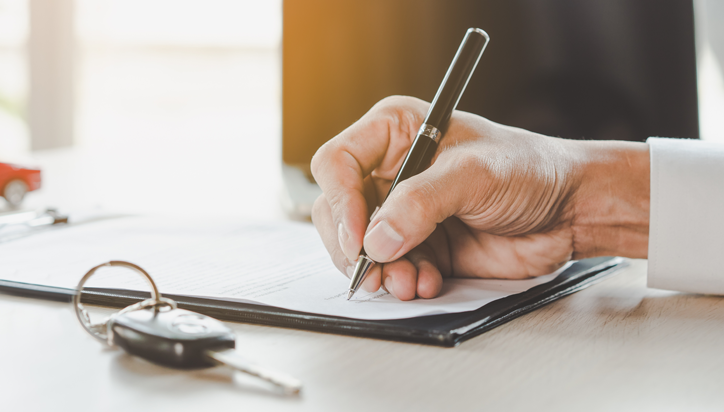 So if you want to sell a van with an outstanding HP agreement, you'll have to end the agreement early.
The way you do that is by speaking to the finance company who'll let you know what the settlement figure is. Roughly this figure is the amount you owe on the loan plus any interest. After you've paid that, the van is yours and you can sell it.
Returning your van early
It may also be possible to end your Hire Purchase agreement early through voluntary termination depending on the terms and conditions.
Voluntary termination means you're entitled to apply to cease your finance without further charge.
However, in order to do this, you must have paid or be prepared to pay half of the total amount payable – including both interest and fees.
You can find this figure – known as the Total Amount Payable (TAP) in your finance agreement and you must pay off the termination amount (50% of TAP) to end the finance agreement early.
If you've already passed the 50% mark in payments, you can still end the agreement, but bear in mind you won't receive a refund for what you've already paid.
The van must also be returned in good condition with no damage, other than normal wear and tear, or you could encounter additional charges.
Can I sell a van with outstanding Personal Contract Purchase (PCP)?
If circumstances have changed and you need to sell your van, it's possible to get out of your PCP arrangement early.
You can do this in two ways – through early settlement or by voluntary termination.
Voluntary termination
If you've repaid 50% or more of the total amount payable of your PCP deal, you can terminate your contract. Known as voluntary termination, this is your legal right as covered in the Consumer Credit Act 1974.
This will include interest and fees and, if you've exceeded the mileage agreed in your contract or damaged the van beyond standard wear and tear, additional charges.
If you haven't reached the halfway point, you can pay the difference and then apply for voluntary termination.
Remember, due to the way PCP works – low monthly repayments with a larger lump sum payment at the end – reaching the total amount payable halfway point will more than likely be around the end of your pre-agreed contract term rather than midway through like a hire purchase agreement.
Early settlement
With a PCP deal, you can give the van back at the end of the agreement or part exchange it for another model. The point here is, though, this happens typically at the end, not during the agreement.
So in order to sell your van when you still have a PCP agreement on it, you would have to pay an early settlement fee. That would include the remainder of your monthly payments, plus the balloon amount, plus interest.
Whether this is the most cost-effective way for you will depend on how much the van is worth at the time and what your remaining balance is.
Can I sell a van if I used a personal loan to finance it?
The simple answer to this is yes. When you take out a personal loan, the money is transferred into your bank account for you to use however you wish.
It's not a secured loan, so if you buy a van with the money, the van legally belongs to you, as if you'd paid for it with your own cash.
Remember, you'll still be liable for the loan repayments, though. If you're planning on using the funds from selling your van to pay back the loan, take a look at your contract first, as often personal loans can come with hefty early repayment charges,
Can I part-exchange my van if I have outstanding finance on it?
Often, part exchanging your van is the easiest way to get a new one when you have outstanding finance on it. However, it does depend on where you are up to with the finance payments.
If you're part exchanging your van when the outstanding finance is lower than what the van is worth, you'll have equity that can be used towards a new van. However, if your van's outstanding finance is more than its worth, you'll be in negative equity.
Here's an example:
Your current van has a finance settlement of £10,000. It has a part-exchange value of £12,000. That means you have equity of £2,000 to use on your new vehicle.
If your current van had a finance settlement of £15,000 and the part-exchange value of £12,000, that would put you in negative equity of £3,000.
Negative equity doesn't have to be a deal-breaker when it comes to part exchange, though. The amount can usually be worked into your new finance deal as part of your monthly payments.
How we can help
We know that selling your van can be a hassle, particularly when you have outstanding finance on it.
Our part exchange service makes it a stress-free experience. Get in touch today and our friendly team can work through your options with you, giving you all the information you need to make an informed decision.