If you've found the right car for you, have your car finance agreement sorted, and are ready to sign on the dotted line, you might be feeling a little overwhelmed about the amount of paperwork floating around.
To make sure you're completely clear regarding your responsibilities as part of the agreement, and to ensure the details on the contract are the same as you specified, here's a few things to doublecheck prior to signing the contract.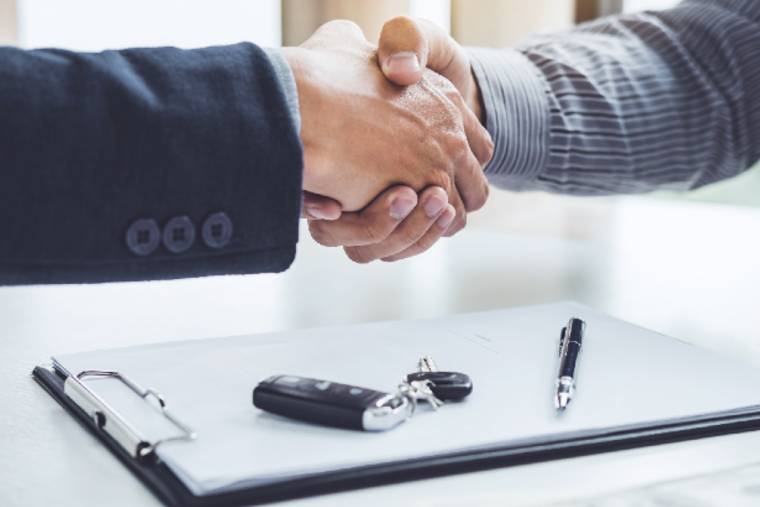 Is your annual mileage correct?
Whether you're leasing a brand new car, or arranging a hire purchase or PCP deal on a used car, you will have to state your annual mileage as part of your contract.
With the cars depreciation linked to wear and tear, checking the annual mileage is correct will ensure that you're not paying too much per month (or vice versa) on your car deal. By overestimating your mileage you're likely to be paying more per month than you need to, but if you've underestimated then you're going to be charged mileage excess at the end of your contract.
Many people overestimate their mileage to be on the safe side, with the most popular rental profile being 10k miles per year, but in 2019 the average motorist drove just 7,400 miles.
Car condition agreement
As part of your contract, it will state the condition the car needs to be returned in at the end of the agreement.
It is likely whoever you entered into an agreement with will be a member of the British Vehicle Rental and Leasing Association (BVRLA), and so will follow their Fair Wear and Tear guidelines when inspecting the vehicle at the end of the contract.
To ensure that your leased car meets the "fair wear and tear" policy, the BVRLA recommends that you conduct the following checks ahead of returning the car to the provider: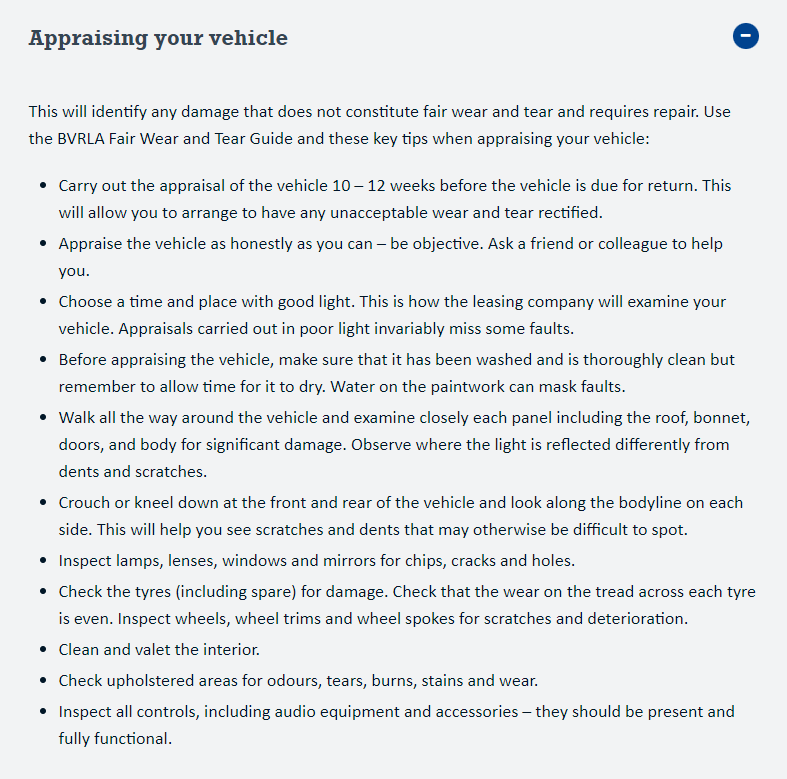 Payment schedule
Double check the initial payment/deposit is the same as you agreed and the monthly payment amount thereafter is what you're expecting. The monthly payment will be fixed to an agreed date (usually the first working day or last working day of the month) but this can be specified otherwise while signing the paperwork if you receive your salary at different times. Agreeing suitable payments terms will ensure you can budget more accurately and know exactly when payments are coming in and going out.
Understand any listed charges
Depending on the type of finance agreement you've entered with your vehicle, whether PCP or HP, it could come with an annual percentage rate (APR) applied on top of the monthly price of the car. The APR that you receive varies from lender to lender, but they are required to explain what that will be before you sign an agreement. Similarly, there will be an option to purchase fee or a balloon payment at the end of the term to purchase the car outright.